Skin care routine is as essential as maintaining a healthy diet. Facial routine is a prime component of any skincare regime. Especially, for those of you who have oily skin, having a good time table for facial care is a necessity. Taking the right care of oily skin is quite a hurdle, from choosing the right cosmetics to choosing the best face wash. Face washes are a major part of any face cleansing process.
Having the best face cleanser for oily skin is essential.
For instance, one that cleans well yet doesn't dry the skin. Or, a face wash for oily skin that removes just the extra oil build up without harming the skin's pH balance. We have reviewed 10 Face Washes for Oily Skin. Let's begin.
Why use a face wash?
A crucial aspect of using a face wash is to maintain your skin's pore size. A good face wash helps to clean pores effectively without increasing its size. Rather, it will help to lessen the size of large pores because large skin pores are harmful as it tends to accumulate more impurities.
A good face wash will pave the way for proper absorption of other skincare products while also helping the skin in maintaining its natural oil balance. It works to target the excess oil on the skin layers.
Face wash helps to remove flaky dry skin patches. As a result, it helps to bring out fresh and clear skin.
Oily skin is more prone to pore clogging. This can be due to excess oil buildup, excessive sweating and a high vulnerability to dirt accumulation. Face wash will help to clean clogged pores and reveal clearer skin beneath.
Using face wash on a daily basis helps to prevent pore clogging.
Face washes are also helpful in maintaining the right pH balance of your skin.
It helps to remove all skin impurities, example, germs, dirt or debris and other skin irritating pollutants.
The action of face massage while cleaning your face with a face wash, helps to stimulate the blood flow and relax face muscles.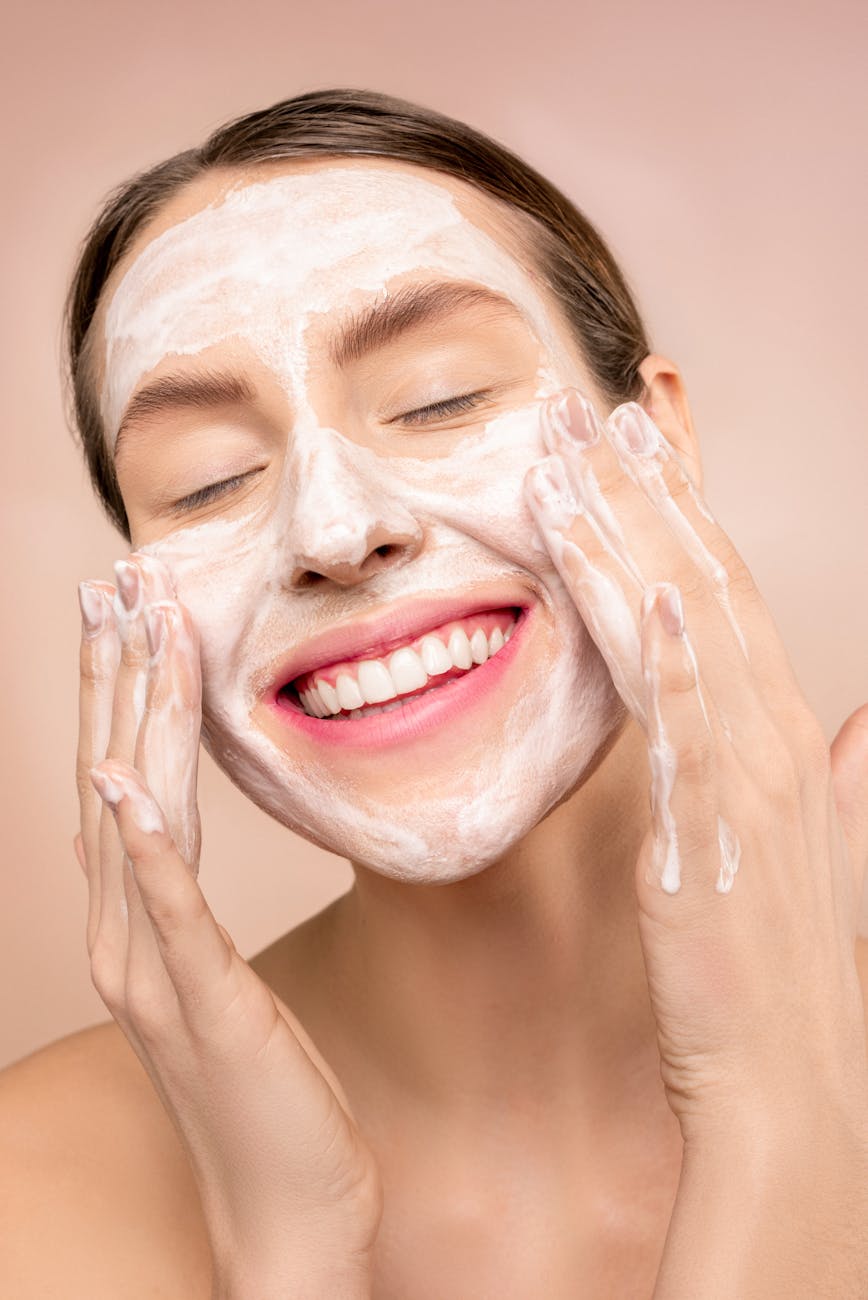 Cleanser vs face wash
Cleansers are more hydrating and soothing than a face wash. Therefore, cleansers are more helpful in cleaning and treating dry skin. On the other hand, face wash is more beneficial on oily and acne prone skin.
Face wash acts on your skin through the removal of skin impurities from deeper skin layers. But, cleansers only target the excess impurities on your skin layer.
Unlike cleansers, face wash is more compatible for oily skin types.
Cleansers have no foaming application. They are more creamy, jelly and milky. On the other hand, face washes usually have a foamy application.
Face wash requires water rinsing. But, a majority of cleansers can be easily wiped off!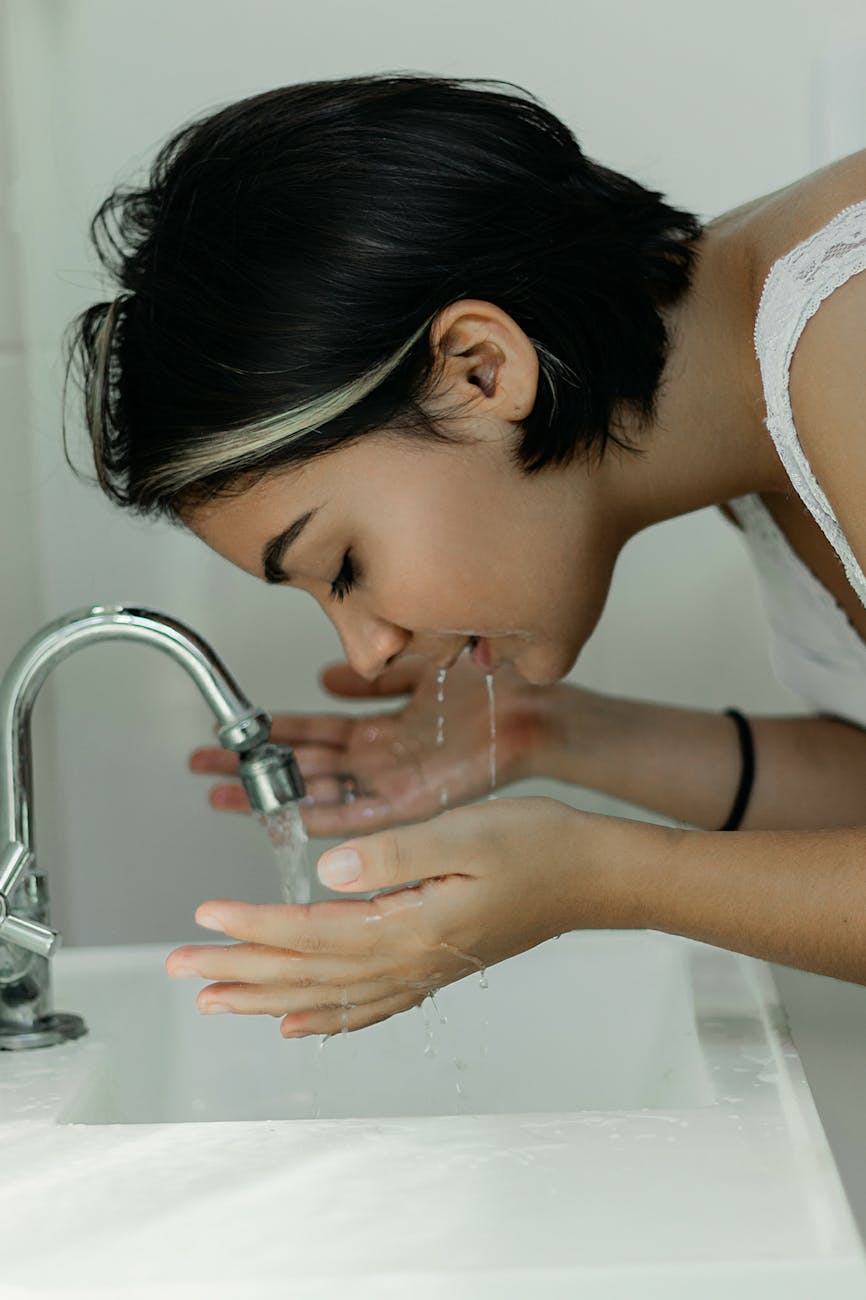 Face scrub vs face wash
Face scrubs are not very foamy like the face washes are.
Unlike a face wash, face scrubs are not good for skin that is prone to breakouts, like pimples and acne. Face washes are more gentler.
The application of a face scrub requires a good amount of massage time. With a face wash you can opt to do both, a quick cleanse or a deep massage cleaning.
The target of face scrub is to remove dead skin cells and other stubborn impurities. While face washes provide an overall cleaning.
Face scrubs have small microbeads that are called exfoliating particles. These particles are helpful to rub off tough dead skin cells. Face wash may come with small scrub-like particles and may not.
Face scrubs are more helpful in stimulating blood circulation than a regular face wash.
Face scrub must not be used more than two to three times a week. Because of its tough exfoliating action, it cannot be used daily. On the other hand, face wash can be used on a daily basis.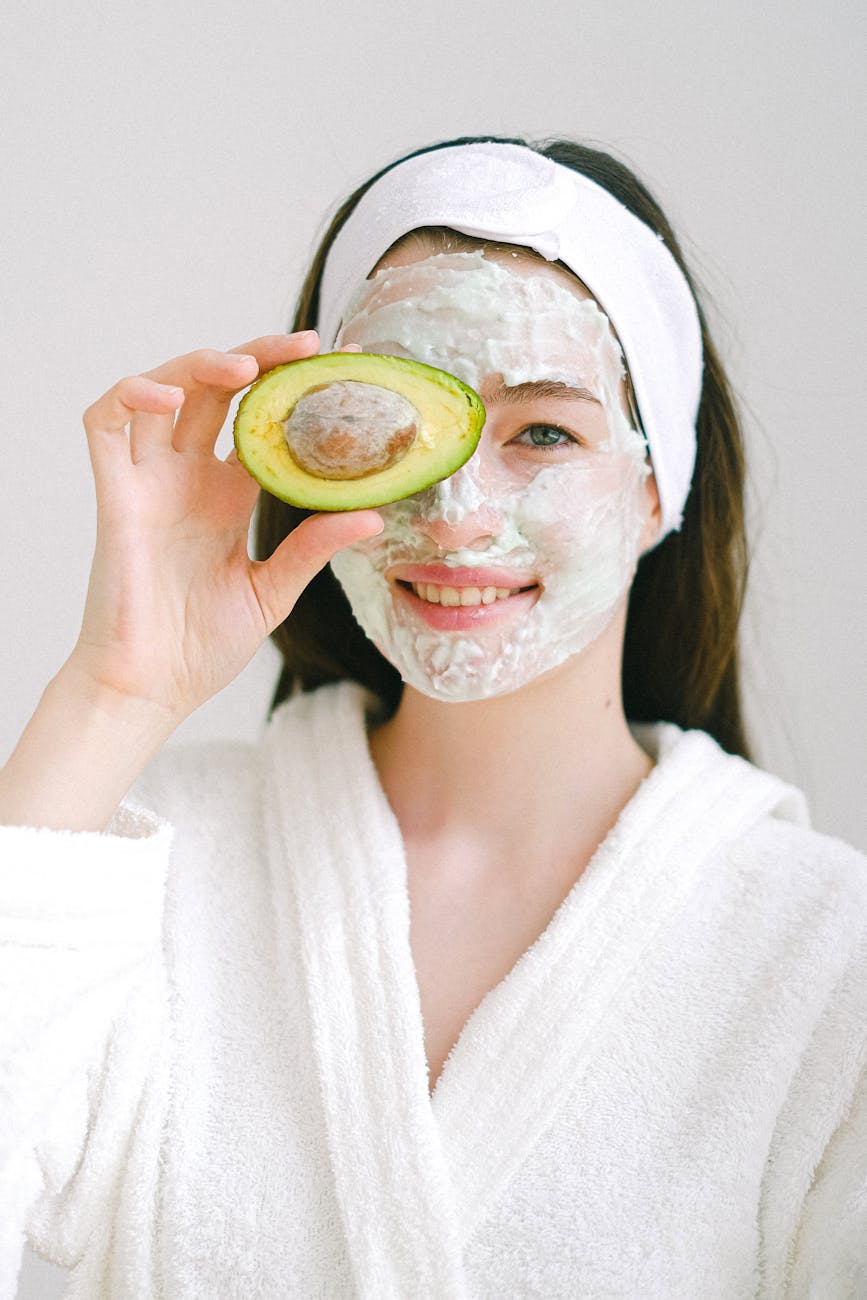 Ideal time to use a face wash
The ideal time to use a face wash depends on the lifestyle and the skin type we have.
For dry skin, using a face wash 2-3 times a day can make the skin more vulnerable to excessive drying. Therefore, using a face wash once in the evening after coming indoors, is fitting.
Oily skin is prone to excess oil production, therefore, the ideal time to use a face wash is after you wake up and before you sleep.
The night time happens to be the best time for any skin care routine. Therefore, using a face wash in the night before you go to sleep, followed by other skin care products is helpful.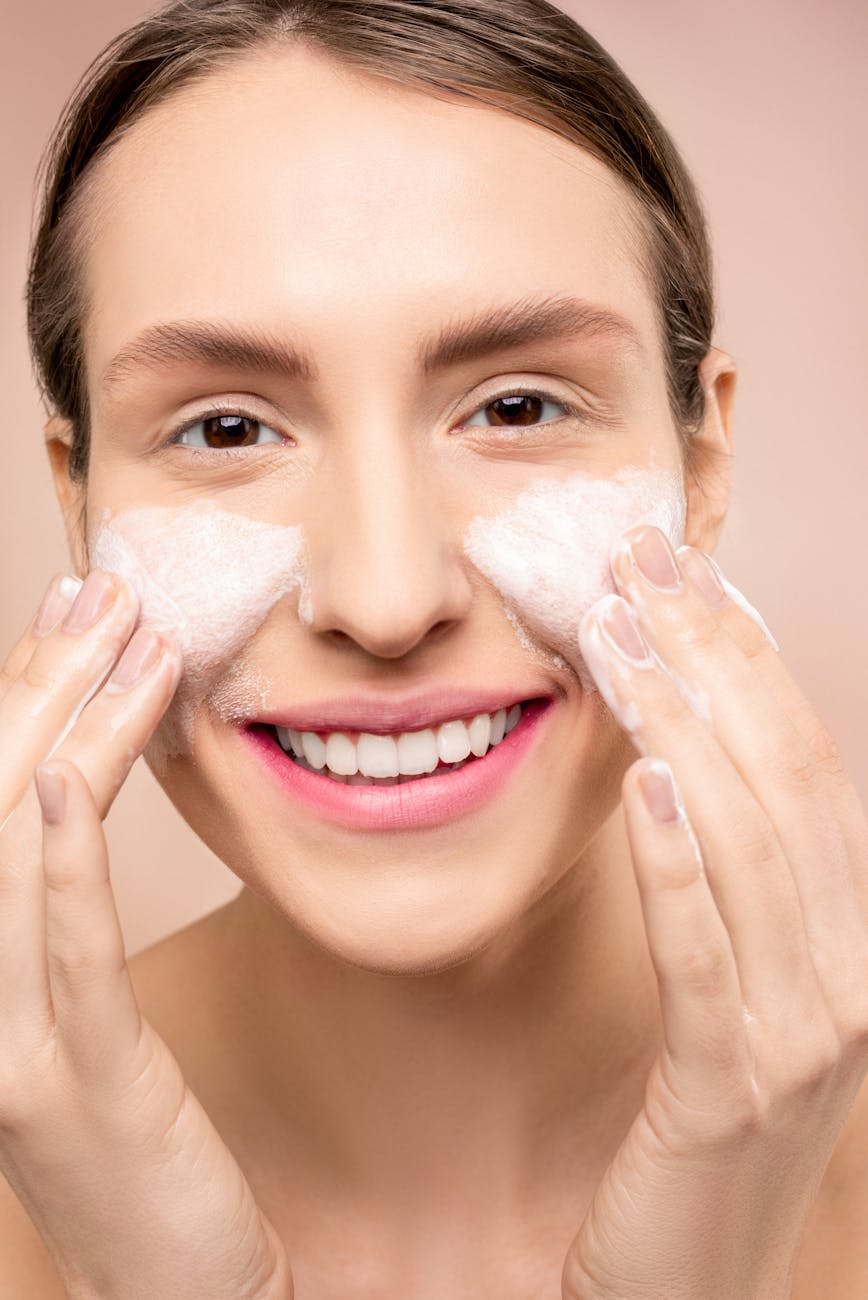 Types of face wash based on different skin types
Sensitive skin
Sensitive skin is prone to various known and unknown skin issues. Which is why, a soap free formula like micellar water face wash is ideal. Face wash with less foaming formula, non-scented, SLS and alcohol free is beneficial.
Oily skin
Face wash with oil components is a big no no!
Ingredients like hyaluronic, salicylic and glycolic acid in face wash aids to control too much oil secretion. Face wash with the richness of Aloe, tea tree oil and clay based is ideal.
Normal skin
Normal skin can mostly withstand any kind of face wash. A face wash that is not very mild and not very tough is ideal. Deep cleansing face wash suits normal skin cleansing.
Dry skin
Dry skin type should use face washes that fruitfully cleans skin impurities while hydrating the skin as well. Alcohol free, hypoallergenic, non-fragrant and non-foaming face wash is quite suitable on dry skin beauties. Face wash enriched with the goodness of natural oils, jojoba oil, avocado oil, glycerin and fatty acids will efficiently clean and moisturize.
Combination skin
A good face wash for combination skin is the one that does not dry the skin but yet, ensures deep cleansing. Combination skin face washes should be paraben free, fragrance and alcohol free. It should be hypoallergenic, so that it doesn't make the skin vulnerable to any kind of skin allergies. Micellar water face wash is one of the good options for combination skin.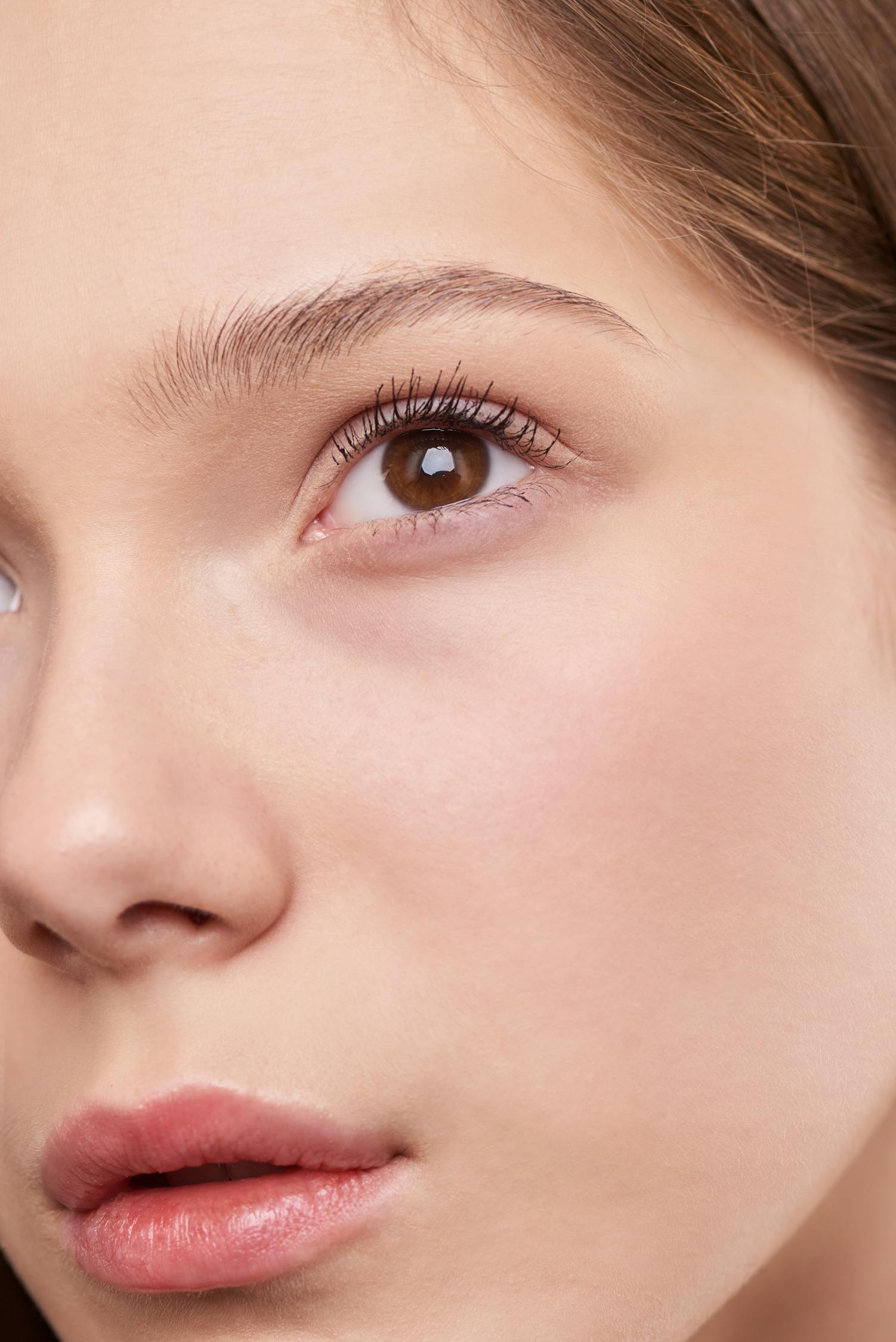 Our Review of face washes for oily skin
It is a unisex face wash that deep cleanses the skin pores. It leaves a cooling sensation on the skin. The face wash is used to remove dirt, oil and makeup. It revitalizes and refreshes the skin.
Pros
It does not enlarge the skin pores.

It does not dry the skin.

The microbeads are not made from plastic.

You do not need too much of the product.

It does not produce any burning sensation on and near the eyes.
Cons
It has a tingling effect that may cause a burning sensation on skin.

Visible difference is not quite evident.
The product is in the form of foam and gel. Curated for unisex use. It is fragrant free and an all-in-one foaming face wash. Cleanses the skin, purifies skin pores, removes makeup and lives matte finish.
Pros
No alcohol and oil

For all skin types

Does not clog skin pores

No residue

No harsh rubbing on skin

Immediate smooth skin
Cons
Does not foam a lot

The smell is unpleasant for some.
A deep pores' charcoal cleanser agent that removes makeup from oily skin. It is non-comedogenic and oil free. It helps in pulling out and removing impurities with two times more effectiveness than normal face wash. Made from Japanese skin purifying technology. Claims to give you visible results after just one use.

Pros
Pulls out deep set dirt and impurities

Decongests pores

Absorbs excess oil on skin
Cons
Tingling sensation can irritate skin

Can cause dryness and red patches on skin

Cause breakouts like acne and whiteheads

Itchy and sore skin
A fragrance free, everyday use face wash for oily skin. It cleans and removes excess oil from the skin. Cleanses deeply without breaking the skin's natural protective barrier. It is a unisex product.
Pros
Unscented

Gentle foaming application

Soothing effect on skin due to the presence of niacinamide

No pore clogging

Restores skin's protective barrier
Cons
Unsuitable for sensitive skin

Can cause cystic acne and skin breakout

No foaming action
A 100% vegan face scrub, suitable for oily, acne prone and normal skin. It is made from blueberries, charcoal, lemon peel and plant cellulose. It helps to exfoliate and detoxify the skin. The facial scrub seeks to revive dull skin through gentle exfoliation.
Pros
Lighten dark spots

Clear small bumps on skin

Lightly scented

Doesn't dry skin
Cons
Little slippery

Exfoliating particles are not fine enough
Brightening face wash that smoothens the skin. It purifies and deeply cleanses skin, gives you shiny and youthful complexion. It has natural extracts of lemon, neem turmeric and Kashmiri saffron. The face wash can be used by both men and women. It is ideal for oily, combination, dry and sensitive skin people. Besides cleaning skin impurities from deeper layers, it also gives your skin an antioxidant skin protection.

Pros
The fragrance is subtle

Gentle on skin

Does not have mineral oils parabens sulfates or phthalates

The ingredients used are natural and pure extracts

Noticeable difference

Does not stretches or dries the skin

The pump dispenser is convenient to use
Cons
Low foaming action

Does not remove excess oil

Face may feel oily
Enriched with green tea, rice water and white Lily. It is a two in one facial foaming cleanser that removes dirt and skin impurities, makeup and evens the skin tone and provides deep nourishment. It helps to replenish and regenerate healthy skin. Give you smooth, brightened and radiant skin. It works to reduce oil production by lessening the sebum production in skin.
Pros
Protects against Sun damage

Treating acne and pimples

Treat the signs of aging

Retention of skin moisture and reduces skin irritation

Controls freckles

Antioxidant benefits

Refreshing feel

Makeup removal
Cons
Not enough quantity of green tea extracts

No visible reduction in pores
Facial cleanser for normal to oily skin but it only for oily skin type. Formulated to be used for everyday needs. It is hypoallergenic and a soap free cleanser. It does not clog your pores and has a non drying formula that cleans your skin without stripping it or tightening it.
Pros
Cleans oily areas of the face well

Reduces acne

No residue
Cons
Strong scented

Low foaming
Oil free formula with oil eliminating action. It is ideal for oily and acne prone skin type. It cleanses your skin by removing dirt and pollutants that clogs skin pores. It dissolves the dirt and frees your skin from any skin impurities.

Pros
Controls oil for long

Rapid foaming action, therefore, necessitates little use

Easy to rinse off

Leaves no greasy residue
Cons
No drastic change

Extremely dries skin

Burning sensation on skin may occur when in use
An everyday use of a facial cleanser with exfoliating particles. Ideally for oily and acne prone skin type. It treats your skin from acne and moisturizes as well. It engages in deep cleaning of pores and the presence of micronized benzoyl peroxide helps to kill acne causing germs and bacteria. The goodness of chamomile helps to clean leaving your skin calm, smooth and supple.

Pros
Active acne treatment

Deep and calming action
Cons
Not quite effective on big acne

No softness on skin
Conclusion – Our recommendation
We give you two most loved products. One is affordable and the other is a little over budget whose benefits though, overpowers the pricing!

The first is Crème Shop Korean Skincare, a 2-in-1 foaming facial cleanser. Second, the Neutrogena Rapid Clear Oil-Eliminating Foaming Facial Cleanser. Both are effective in deep cleaning of oily skin, refreshes skin without leaving any oily residue. Under a budget, the first one is a must choice, infused in natural beauty extracts, cleans with nourishing antioxidant properties, that helps the skin to feel free and breathe. While Neutrogena rapid foaming cleanser, dissolves and removes pollutants from skin pores. It controls oil for hours, easy to clean and leaves no oil trace.

Therefore, those two are our preferred face wash for oily skin and we would love to know your experience on the same.